Our story is one of passionate and dedicated people who love this place and work tirelessly to protect the land so that it can continue to sustain our community, nourish our body and soul, and be a source of inspiration now and long into the future. These lands would not be protected as nature preserves if it weren't for the support of our members who love Door County.

Within the Celebrating Open Spaces series, you'll find outings and events that educate and inspire. For this, our 30th Anniversary, we invite you to celebrate the scenic beauty and ecological diversity that, together, we have protected…forever.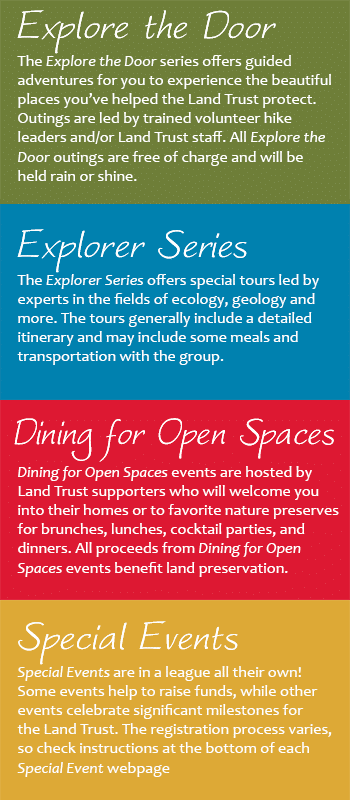 Thank you to our Dining for Open Spaces, Explore the Door, and Community Outreach volunteer teams for their generosity, their loyal support, and their hours spent creating the 2015 Celebrating Open Spaces calendar of events. It takes many, many volunteers to maintain our nature preserves, lead outings, host events and coordinate the details of each event throughout the year. The Door County Land Trust is grateful for our volunteers' commitment and dedication.