The above photo of Kangaroo Lake is one of  twenty aerialscapes photographed from an airplane by Paul M. Lurie featured in the new book, "A Shoreline at the Edge: Door County's Lakeside Forests and Wetlands." Through a generous donation from Paul Lurie, Door County Land Trust is making the book available for free to the community in an effort to inspire a greater love of the peninsula's wilderness and to propel further conservation efforts across the peninsula, its islands, and surrounding waters.
Shoreline at the Edge: Door County's Lakeside Forests and Wetlands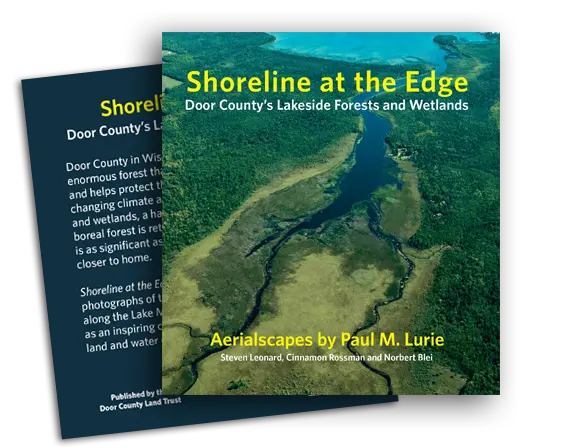 Hardcover with dust jacket,
105 pages, 10 ¼" x 11 ¼" x ¾"
---
Copyright 2021,
Published by
Door County Land Trust
Door County's beauty inspires the imagination. In a new book, titled "A Shoreline at the Edge: Door County's Lakeside Forests and Wetlands," photographer Paul M. Lurie captures the imagination with a series of stunning aerial photographs taken from above the Lake Michigan shoreline. His photographs show the transition from forest to farm field, from wilderness to development. And, upon closer look, they show where Door County's dark evergreen conifer boreal forests hug the cooler climate areas of the shoreline.
Paul Lurie's photographs beg the question of how to protect the uniqueness of Door County as we lose wilderness habitat to development and as our boreal forests are visibly transitioning in response to climate change. Former executive director of The Ridges Sanctuary, Steve Leonard, and Door County Land Trust's director of charitable giving, Cinnamon Rossman, co-authored the narrative and captions that accompany Paul Lurie's photographs. They narrate Lurie's photographs with history that spans from geologic times to present, adding ecological and scientific facts throughout.
The final result is a book that will deepen an appreciation for the Door Peninsula, its islands, and surrounding waters. Ultimately, it serves as a call to action—for the preservation of Door County's remarkable wilderness and forests, and for taking bold action against climate change that threatens these lands.
In partnership with WriteOn Door County and the Climate Change Coalition, Door County Land Trust will host readings, Q&A, and signing with the photographer and authors.
Please note that due to a shipping delay, all book signing events will be rescheduled at a later date.
About This Offer
A limited number of books are available and requests will be fulfilled on a first-come, first-serve basis.
One book per household, please. Additional books may be purchased through local bookstores.
Book fulfillment services are generously donated by the volunteer program of Sunshine Resources, a Sturgeon Bay non-profit organization providing services and employment to Door County's special needs residents and their families.
The first book orders will mail by August 27. We apologize for the delay due to backlogs in shipping nationwide.
Reserve Your Book and Donate to Protect Door County
There is so much to love about Door County—but we need your help to protect this peninsula, its islands, and surrounding waters. We hope that this book inspires you to give generously to protect Door County's exceptional lands and waters.
A minimum donation of $7.00 is required to cover shipping and handling, but when you give more, your gift directly supports land preservation.
Please make a donation of $50 or $100—or any amount that moves you—to help protect Door County today.
Your donation will help protect and restore Door County's exceptional lands and waters.
Thank you!
Shoreline at the Edge: Door County's Lakeside Forests and Wetlands