February 8 @ 4:30 pm

-

8:00 pm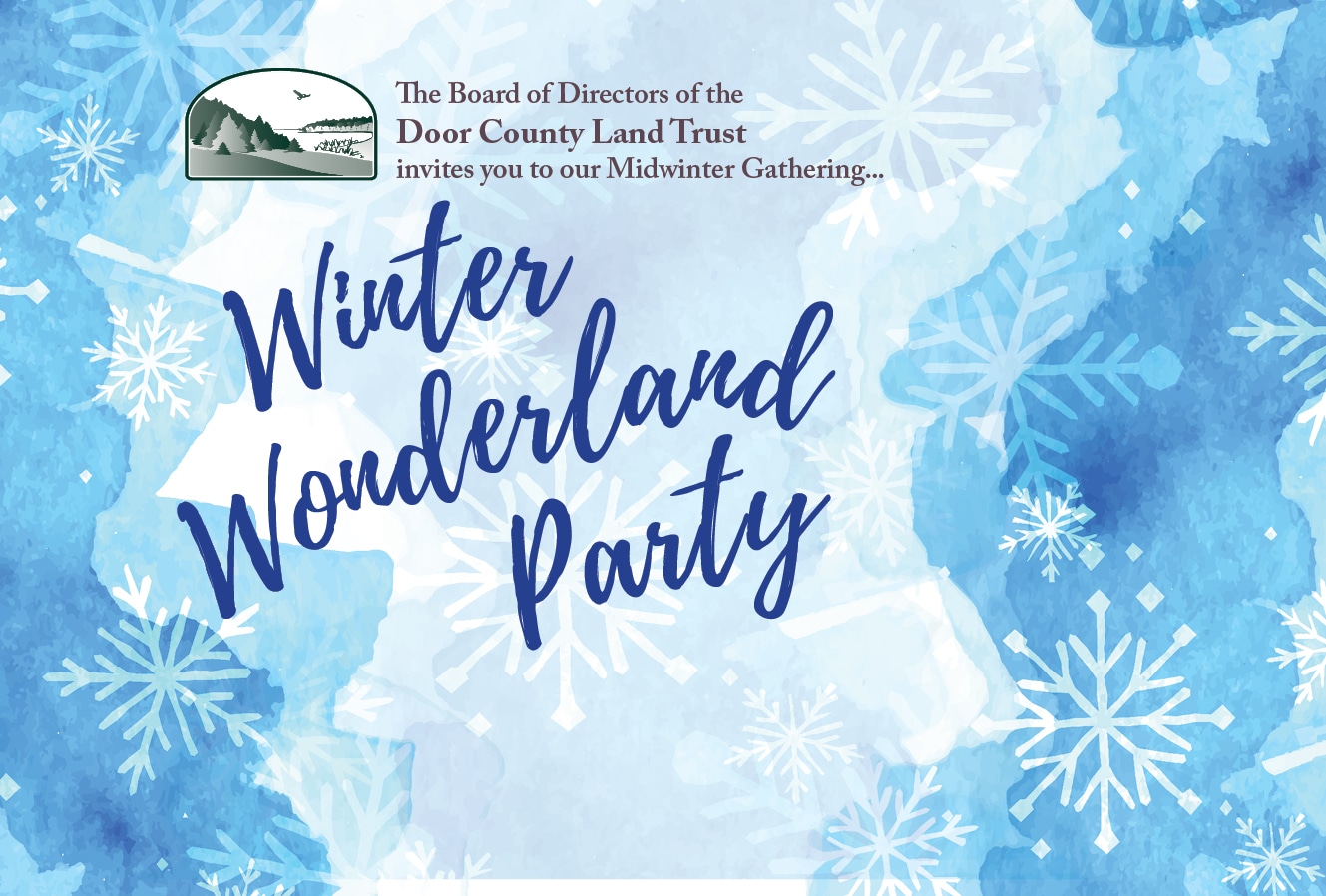 Register Now!
Winter Wonderland Party
Saturday, February 8, 2020  •  4:30 – 7:30 pm
Northern Haus, Sister Bay, Wisconsin
Join members and friends for our joyous winter benefit that raises funds to protect and care for our exceptional lands and waters. Enjoy an evening filled with laughter, camaraderie and wonderful music. The program features inspiring stories about the wild places and wild things you have helped to protect, with a sneak peek at the year ahead.
---
Evening Schedule!
4:30 – 6:00 pm  Social
Music by Katie Dahl
Wine and beer included  •  Cash bar for other drinks
Catering by Alexander's of Door County

Assorted cheeses and artisan sausage • Fresh fruit display
Artichoke Gorgonzola dip • Vegetable crudité • BBQ meatballs
Mixed green salad • Pesto pasta chicken salad • Asian slaw
Sliced tenderloin of beef • Cherry chicken breast
6:00 – 7:00 pm  Program
Back by popular demand…Forever entertaining…
Always informal…More exciting after a glass of wine…
Land Trust trivia! Our emcee for the evening, Executive Director Tom Clay, will lead us in a round of questions to highlight the best of 2019 and give a peek into the year ahead.
Get ready for games and a little FUNdraising!
7:00 – 8:00 pm More music following the program!
Northern Haus, 10414 Fieldcrest Rd, Sister Bay
We are pleased to host this year's winter gathering at Northern Haus, a new event venue in Sister Bay featuring a modern gambrel-roof barn, and the perfect bar and dining room for Land Trust friends to gather.
---
Register online today!
Tickets are $85 per person, with all proceeds benefiting our land protection efforts. Register online by January 31 or call our office at (920) 746-1359 to register by phone.

Thank you!
Proceeds from ticket sales support land protection and restoration work. You will receive a receipt for the tax-deductible portion of your ticket price.
Unable to attend this year's party?
You can still support the incredible land protection and restoration that lies ahead this year by making a donation online or call us at (920) 746-1359.
No Alternate Weather Date
Fair or foul weather, the party must go on!
Many, many thanks to the Winter Wonderland Team…
Penny Beerntsen, Laura Maloney, Windsor McCutcheon, Gail Mullaney, Trudy Wessels and Kathy Wolff, as well as the many volunteers and generous Winter Wonderland sponsors for their combined effort in bringing joy to this winter event.